PTFE Fittings For Balljoint Connections Series 02, 03 and 05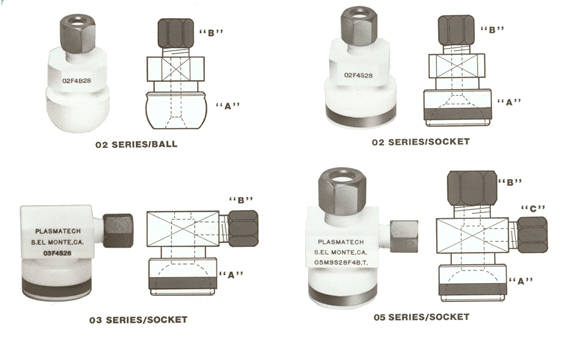 Plasmatech PTFE fittings for balljoint connections are precision machined from virgin PTFE. Fitting nuts are injection molded of Ryton R-4 and the retaining collar, used on the socket versions, is machined from aluminum tubing and anodized. All sizes and styles are designed for use with Thomas pinch-clamps or equivalent.
Pinch Clamps for above are available from Plasmatech.
= Socket or ball connection. Dimension is expressed in "mm" such as the large number of a balljoint designation (28/15 or 18/9).
= Plasmatech tube fitting for tube O.D. as shown in "B" column.
= Plasmatech tube fitting on branch connection for tube O.D. as shown in "C" column.
02 Series

 

03 and 05 Series

Part No.

"A"

"B"

 
Part No.

"A"

"B"

"C"

02 F4 B18

18

1/4″

 
03 F4 S12

12

1/4″

 

02 F4 B28

28

1/4″

 
03 F4 S18

18

1/4″

 
02 F8 B28

28

1/2″

 
03 F6 S18

18

3/8″

 
02 F4 B35

35

1/4″

 
03 F4 S28

28

1/4″

 
02 F6 B35

35

3/8″

 
 
 
 
 
02 F8 B35

35

1/2″

 
03 F6 S28

28

3/8″

 

02 F4 S18

18

1/4″

 
03 F8 S28

28

1/2″

 

02 F6 S18

18

3/8″

 
 
 
 
 

02 F4 S28

28

1/4″

 
05 F6 S28 F4 B.T.

28

3/8″

1/4″

02 F6 S28

28

3/8″

 
05 F4 S35 F4 B.T.

35

1/4″

1/4″

02 F8 S28

28

1/2″

 
05 M6 S28 F4 B.T.

28

6mm

1/4″

02 F4 S35

35

1/4″

 
05 M9 S28 F4 B.T.

28

9mm

1/4″

02 F6 S35

35

3/8″

 
05 M10 S28 F4 B.T.

28

10mm

1/4″

02 F8 S35

35

1/2″

 
05 M12 S28 F4 B.T.

28

12mm

1/4″

02 F4 S50

50

1/4″

 
05 M9 S35 F4 B.T.

35

9mm

1/4″

02 F6 S50

50

3/8″

 
05 M10 S35 F4 B.T.

35

10mm

1/4″

02 F8 S50

50

1/2″

 
05 M12 S35 F4 B.T.

35

12mm

1/4″

02 M8 S28

28

8mm

 
 
 
 
 
02 M10 S28 B.T.

28

10mm

 
 
 
 
 
02 M12 S28 B.T.

28

12mm